Power Zero - M10077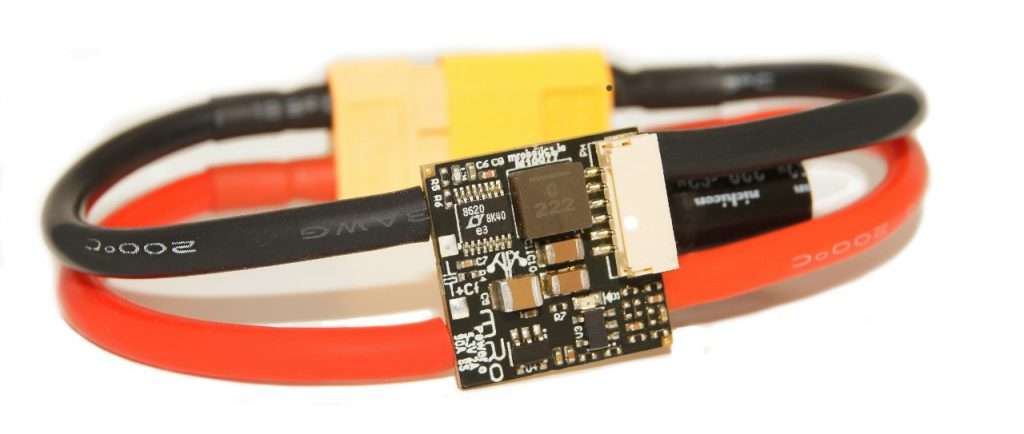 The mRo Power Zero is a renewed, high-quality power module standard based on the ACSP7. Offers extremely accurate measurements across the entire current and voltage operating range. mRo is the first company to introduce a non-invasive, Hall-effect current sensor for UAV/Robotics application and high-precision voltage dividing circuit for consistent and reliable measurements.
Compared to the ACSP7, the .5v offset is removed and the current sensing is compared with a dedicated power reference. The integrated electrolytic capacitor reduces voltage spikes which result from longer input cable lengths and higher voltage batteries.

Purchase this Power Module
Features:
Dual internal power supply to improve the stability of the Hall-sensing.
Specifications
Electrical:
50.4v 12s lipo
90 Amps – Max Current Sensing
5.3V, 2 Amps power supply
Mechanical:
Board Weight: 2.50g (0.08 oz)
Board Dimensions:
18mm x 18mm (.70″x.70″)
Height: 7.30 mm (0.28″)
Parameters
Ardupilot settings:
| BATT_VOLT_MULT | 15.30 |
| --- | --- |
| BATT_AMP_PERVLT | 50 |
| BATT_AMP_OFFSET | 0.00 |
Latest units come with a printed ticket with the voltage and current multipliers calculated for the specific board, to take into account physical variation among passive components.
Connector pinout
6-pin JST-GH
| Pin | Color | Signal | TTL/Voltage Level |
| --- | --- | --- | --- |
| 1 | red | VCC | 5.3V |
| 2 | black | VCC | 5.3V |
| 3 | black | CURRENT | 3V3 |
| 4 | black | VOLTAGE | 3V3 |
| 5 | black | GND | N/A |
| 6 | black | GND | N/A |