CAN Power Module - M10104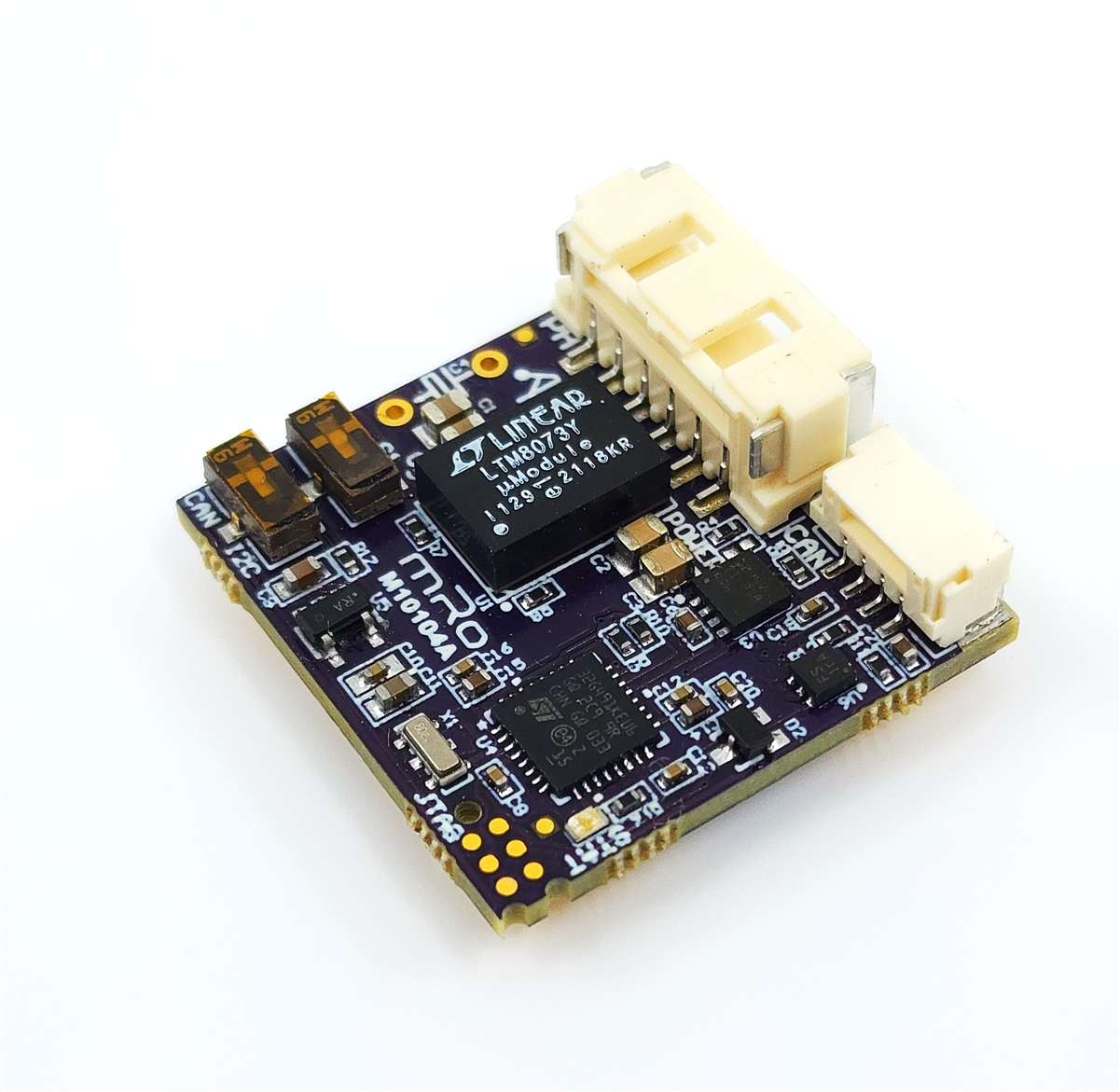 The sensor is based on the ACS37800 power monitoring IC, which provides 0.85 mΩ primary conductor resistance for low power loss and high inrush current capabilities. It has excellent accuracy over the entire range: 0-60A continuous.
The integrated capacitors reduce voltage noise, however we still recommend to install the included electrolytic capacitor to compensate for long battery wire lengths and motor noise.


Purchase this Power Module
Electrical:
50.4V 12S LiPo
60 Amps Continuous - 90 Amps Max Current Sensing
5.3V, 3A power supply
Mechanical:
Board Weight: 5.90g (0.208 oz)
Board Dimensions:
26mm x 26mm (1.02"x1.02")
Parameters:
Set BATT_MONITORx=8 (CAN)
Warning
Important! The module comes with pre-calibrated values, however end users are encouraged to verify and tune constants provided in the module's paramaters.
BATT_V_FINE_M and BATT_C_FINE_M are multipliers set to 1.0 by default to fine tune your power readings. Keep a safe margin of battery capacity for your tests until verified .
To modify the above mentioned parameters you will need to connect using the SLCAN port in Mission Planner or download the DroneCAN GUI tool and select the SLCAN interface, given that these live in the power module itself, this means if you switch the unit among different systems, the fine tuning will be retained.
The board comes with jumpers which may allow for I2C instead of CAN connectivity, however neither PX4 or Ardupilot provide drivers at the moment. See more in the next section.
Pinouts
CAN+PWR Connector
6-pin Molex Clik-Mate
| Pin | Color | Signal | TTL/Voltage Level |
| --- | --- | --- | --- |
| 1 | red | VCC | 5.3V |
| 2 | black | VCC | 5.3V |
| 3 | black | CAN_H | |
| 4 | black | CAN_L | |
| 5 | black | GND | N/A |
| 6 | black | GND | N/A |
Tip
An I2C passthrough is available for pins 3 and 4 by swapping the position of the jumpers in the bottom of the board.
CAN
| Pin | Color | Signal | TTL/Voltage Level |
| --- | --- | --- | --- |
| 1 | red | VCC | 5V |
| 2 | black | CAN_H | |
| 3 | black | CAN_L | |
| 4 | black | GND | N/A |
[Designed and assembled in USA]